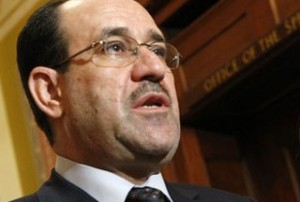 Iraq's Prime Minister Nouri al-Maliki has promised to defeat terrorism despite a wave of deadly attacks across the country.
The premier's pledge followed Foreign Minister Hoshyar Zebari's Saturday comments in which he said the Iraqi security forces could be involved in the recent bombings.
Last weeks deadly twin truck bombing killed at least 95 people and wounded almost 600 others in Baghdad. The government has admitted that trucks of the size involved in the bombings should never have been allowed to pass the checkpoints that circle the city center.
Eleven senior security officers have been arrested in connection with the attacks, as the Iraqi government launched an investigation into the case.
In his statement, Maliki said that the perpetrators of the twin bombs which wrecked the foreign and finance ministries had been captured.
"I want to tell the Iraqi people we are still in an open war against (the terrorists)," he said on state television. "I reassure the Iraqi people that the security forces can keep up the battle and achieve victory despite breaches here and there."
Maliki further vowed to purge the police and the military of those who were loyal to their factions or parties rather than the country as a whole.