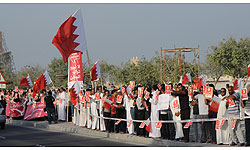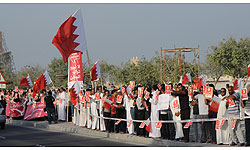 Bahrain's foreign ministry has urged the members of the European Union to keep silence on the expulsion of 31 Bahraini citizens, including political and human rights activists, clerics and two former legislators, European diplomats said on Saturday.
The diplomats said that the al-Khalifa regime has contacted the EU representative office in Manama during the last two weeks and asked for the bloc's silence on the expulsion of the Bahraini nationals from the country.
Bahrain's Al-Khalifa regime has revoked the citizenship of 31 activists, the latest clampdown on the opposition.
The state-run Bahrain TV announced the move in the first week of November, citing an interior ministry statement. The television anchor read out the names of the 31 activists, which included Jawad Fairouz, a former Member of Parliament for the opposition group Al-Wefaq, and his brother, Jalal, CNN reported.
Among the other prominent opposition figures who were stripped of their citizenship were Said al-Shihabi, the head of the Freemen of Bahrain movement, and Ali Hassan Mushaima, the son of the leader of Al-Haq group.
Also on the list were three Shiite clerics: Hussein Mirza, Khaled Mansour Sanad and Alawi Sharaf.
The interior ministry statement Tuesday said the country's Citizenship Act "allows the kingdom the right to revoke the citizenship of anyone who is charged with being a threat to the state's security".
Two prominent Bahraini groups, the Bahrain Youth Society for Human Rights and Bahrain Center for Human Rights, decried the move.
The groups said they had "grave concern over the systematic targeting of prominent political activists, former members of parliament, clerics and others. The Bahraini authorities did not provide substantial evidence as to why these individuals' citizenships have been revoked."
Bahraini authorities imposed a ban late in October on public protests. But the rights group Amnesty International said the move breached people's right to free speech.
Anti-government protesters have been holding peaceful demonstrations across Bahrain since mid-February 2011, calling for an end to the Al Khalifa dynasty's over-40-year rule, end of discrimination, establishment of justice and a democratically-elected government as well as freedom of detained protesters.
Violence against the defenseless people escalated after a Saudi-led conglomerate of police, security and military forces from the Persian Gulf Cooperation Council (PGCC) member states – Saudi Arabia, Kuwait, the United Arab Emirates, Oman and Qatar – were dispatched to the tiny Persian Gulf kingdom on March 13, 2011, to help Manama crack down on peaceful protestors.
So far, tens of people have been killed, hundreds have gone missing and thousands of others have been injured.