Syria
Mass march in Jaramana in condemnation of terrorists' acts in Palestinian camps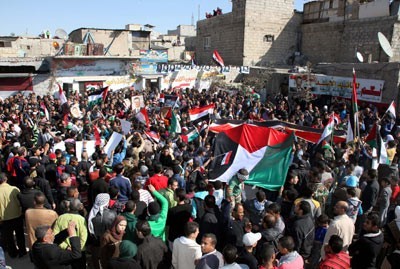 The locals of Jaramana Camp (for the Palestinian refugees) locals took to streets on Friday in condemnation of the crimes of the terrorists in the Palestinian camps, who are blockading these camps, and in rejection of the foreign intervention in the Syria internal affairs.
The participants stressed their solidarity with the Syrian people in confronting the conspiracy, chanting slogans expressing their unity with the Syrians and support to the Syrian leadership and people.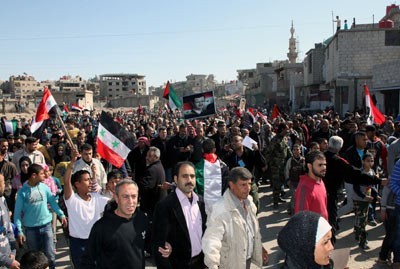 The participants, who waved Syrian and Palestinian flags, said that Syria has made lots of sacrifices for the Palestinian Cause, highlighting their support to President Bashar al-Assad and his wise leadership.
In statements to SANA, the participants said that the march and the massive numbers of participants prove that the Palestinian people support the Syrian leadership, adding that the Palestinians are actually defending their second homeland, as Syria has gave them all rights on an equal footing with the Syrian citizens.