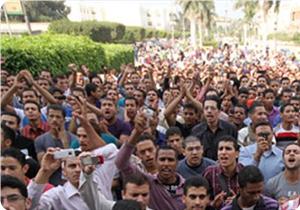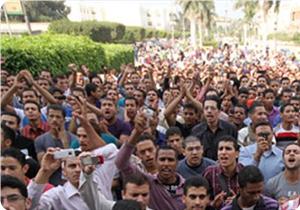 Egyptian governorates on Friday have witnessed mass rallies in support of Jerusalem and Al-Aqsa Mosque; called for by the Muslim Brotherhood.
The marchers denounced the ongoing Israeli violations against Al-Aqsa Mosque, and demanded the Egyptian President Mohamed Morsi to intervene to protect it from the Israeli violations.
In Al-Azhar mosque, a number of demonstrators set fire to the Israeli flag, and chanted slogans demanding the expulsion of the Israeli ambassador. They also raised Palestinian and Hamas flags and banners condemning the occupation aggression on Al-Aqsa Mosque.
The Egyptian Ministry of Endowments condemned in a press statement "the terrorist practices of the Zionist entity against Al-Aqsa Mosque, the Palestinian people and holy sites", and called for confronting them.
The Ministry demanded the Islamic nation's rulers and peoples to place the Palestinian case at the top of their priorities and to unify their ranks and resist the occupation.
For its part; Freedom and Justice Party – the political arm of the Muslim Brotherhood in Egypt – condemned the repeated Israeli aggression on Al-Aqsa Mosque, which violates all laws and norms that guarantee freedom of belief and worship.
It said in a statement that the occupation practices; including aggression on Syria, the Jewish extremists' raid into Al-Aqsa Mosque, the attack on worshipers, the arrest of Jerusalem Grand Mufti and the settlement activity, undermine all the efforts that seek to establish peace in the Middle East.
Freedom and Justice Party held Israel responsible for the deteriorating conditions in the Middle East, because of its hostile practices against the peoples of the region.
Meanwhile; a number of activists organized a protest in Suez after Friday prayers in front of al-Arba'in mosque. They raised pictures of Al-Aqsa Mosque and urged their President and the Muslim Brotherhood to officially move to respond to the occupation military abuses against the people of Palestine.
Dozens have also protested today in Qaed Ibrahim mosque courtyard after Friday prayers; in protest at the Israeli attempts to besiege and raid Al-Aqsa Mosque.