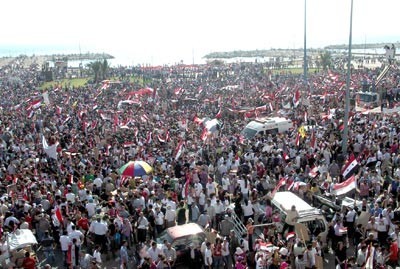 More than 200,000 people in Tartous city took part in a mass rally on Thursday stressing national unity to preserve stability and security and support the comprehensive reform program led by President Bashar al-Assad.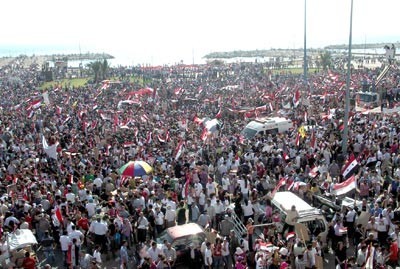 Participants raised a 60-meter long Syrian flag, chanted the Syrian national anthem and observed a moment of silence to honor the civil and army martyrs.
They noted that they gathered today to send a message to the whole world that Tartous, the birthplace of Sheikh Saleh al-Ali, will always live in amity and tolerance and that terrorist armed groups will not spoil this atmosphere of co-existence.
A participant in the rally said the goal of this rally is to reject the sedition projects which are targeting the homeland and support the comprehensive reform program in Syria.
The participant went on saying that:" This people will stand by the government and never let the zionist powers intervene our homeland and society. We all blame US, Israel and their allies for all these damages and instabilities in the country. We won't allow any outrageous power to interfere our state affairs. Our nation rely on the President  Bashar al- Asad."
Earlier, Damascus city witnessed a mass rally in which hundreds of thousands of people took part stressing national unity and rejecting foreign interference in Syria's internal affairs.