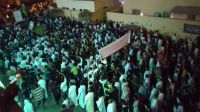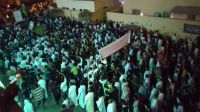 Tens of thousands of people in Saudi Arabia have attended the funeral of two activists who were killed by regime forces in the country's Eastern Province.
According to Press TV, the funerals were held in the town of Awamiyah and the Qatif region on Wednesday.
The mourners slammed the regime's deadly crackdown on the country's uprising and chanted slogans against the ruling Al Saud family.
On June 23, Saudi police opened fire at and seriously injured Morsi Ali Ibrahim al-Rabah when trying to arrest him over allegations of involvement in anti-regime protests. Rabah, who was on a list of 23 activists wanted in connection with protests in Awamiyah, died of his injuries in hospital. He was the 18th victim of the Saudi crackdown on the protesters in Qatif since 2011.
On June 21, regime forces also killed a teenager during a raid on the houses of anti-regime activists in the village of al-Tubi in Qatif. Police shot the 19-year-old in the head and shoulder.
In Saudi Arabia, protests and political gatherings of any kind are prohibited.
Many political prisoners are held in detention across Saudi Arabia.
The families and relatives of political prisoners have held several public gatherings in major cities, including Riyadh, Mecca, Medina and Buraidah.