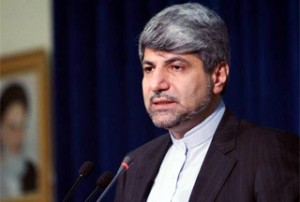 Efforts should be made to make the Middle East a nuclear weapons-free zone, the Iranian Foreign Ministry spokesman said on the last day of the Tehran nuclear disarmament conference.
"We really believe that a Middle East without nuclear weapons can bring about stability and peace," Ramin Mehmanparast said in an exclusive interview with Press TV on Sunday.
He criticized certain Western countries for facilitating Israel's nuclear weapons program, saying, "This is really threatening the region, and it will bring chaos and instability to the region."
The Iranian Foreign Ministry spokesman called on all Islamic countries, the Organization of the Islamic Conference (OIC), members of the Non-Aligned Movement (NAM), and all other independent countries to take a major step to denuclearize the Middle East region.
The Nuclear Energy for All, Nuclear Weapons for No One conference was held in Tehran from April 17 to 18 to promote nuclear disarmament and non-proliferation.