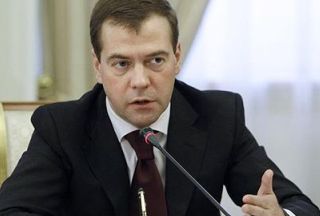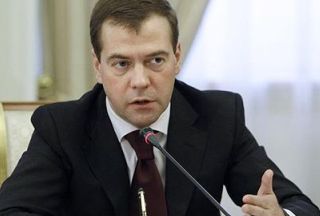 Russian President Dmitry Medvedev has voiced concern after the CIA chief claimed that Iran's nuclear program is pursuing military objectives.
CIA director Leon Panetta said on Sunday that he "thinks" Iran has enough low-enriched uranium to produce two atomic weapons within two years, but expressed doubt about Iran's willingness to actually build the bomb.
"As to this information — it needs to be checked," Reuters quoted Medvedev as saying on the sidelines of the G20 summit in Toronto.
"In any case, such information is always alarming because today the international community does not recognize Iran's nuclear program as transparent."
The new allegations against Iran come although the International Atomic Energy Agency (IAEA) has confirmed the non-diversion of nuclear material in Iran.
On June 9, Russia voted in favor of new UN sanctions against Iran which came less than a month after Iran said it was ready to exchange its low-enriched uranium on Turkish soil with nuclear fuel needed for the Tehran Research Reactor.
Russia also continues to delay the delivery of the S-300 missile defense system to Iran.
Under a contract signed in 2005, Russia was required to provide Iran with at least five S-300 air-defense systems, but the Kremlin has since oscillated between delivering the systems to Tehran and Washington's demands for the deal to be scrapped altogether.
Medvedev went on to say that if the CIA allegations are confirmed, the situation will become "more tense," adding that the issue needs to be considered more closely.
The United States, Israel and their allies accuse Iran of pursuing military objectives in its nuclear program.
Iran has repeatedly rejected the allegations, reserving its right to a peaceful nuclear energy as a member of IAEA and a signatory to the Nuclear Non-Proliferation Treaty (NPT).