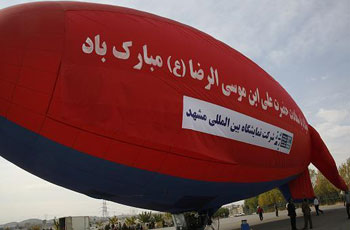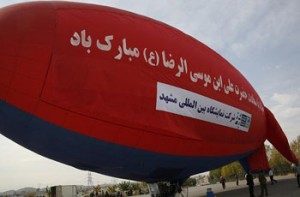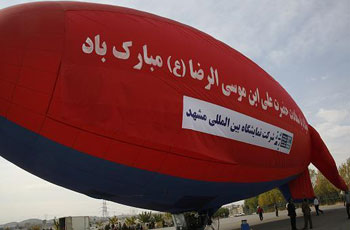 On birth anniversary of 8th Imam (P) Middle East's largest airship, called "Hail to Ali ibn Moussa al-Reza – P" was sailed into Mash'had sky, the spiritual capital of Iran.
The airship that had been prepared at the Permanent Ground of Mash'had International Exhibitions was launched into the sky on the auspicious occasion.
The Managing Director of the Mash'had International Exhibition said at the ceremony held there to launch the airship, "This new generation of airships flies using the hot air technique, just like a balloon, and it is the fruit of cooperation among Razavi Khorasan Governorate, the National Aviation Organization, and the IRI Flight Operations Team in Mash'had."
Sayyed Mohammad Sayyedi referring to the family and tourism usages of the airship, added, "The capacity of this airship is 3,500 cubic meters of air and it is capable of takeoffs and landings at country's entire airports, after flying a long period of time in the sky."
Pointing out that in family flights the airship can lodge four people, adding, "It is designed in a way that taking advantage of the produced heat the airship can make its orientation and using its engine while predicting the wind speed and its direction it can identify its own altitude, as well," IRNA reported.
He said that the airship is meanwhile appropriate for tourism purposes and for attracting tourists.