Palestine
Meshaal on First-Ever Visit to Gaza: Today Gaza, Tomorrow Al-Quds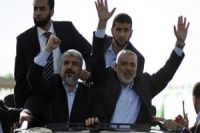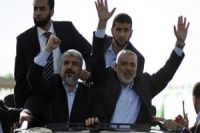 Hamas leader Khaled Meshaal made his first visit to Gaza on Friday, kissing the ground and saying he hoped he would one day die a martyr in Palestine.
After his seven-vehicle convoy swept across the border from Egypt, Meshaal got out and kissed Palestinian soil before embracing Gaza's Prime Minister Ismail Haniya.
Green Hamas flags and the red, white, green and black of the Palestinian flag were everywhere to mark the unprecedented visit which was timed to coincide with the 25th anniversary of the founding of the resistance movement.
Meshaal was accompanied by his deputy Mussa Abu Marzuk and other top officials on a trip which came just two weeks after the end of "Israeli" aggression on the besieged strip, which began on November 14 with an "Israeli" air strike that killed Hamas military commander martyr Ahmed Jaabari.
Shortly after his arrival, Meshaal was taken to see the charred remains of Jaabari's car, which had been transported to Rafah especially for the visit.
"I hope God will make me a martyr on the land of Palestine in Gaza," he said.
"This is the first time that I am coming to Palestine in 37 years," said Meshaal who is originally from a village in the West Bank but went into exile with his family after the 1967 Middle East war, only returning for a brief visit in 1975.
It was his first-ever visit to Gaza.
The leader further said: "Today is Gaza. Tomorrow will be Ramallah and after that al-Quds then Haifa and Yafa."
"This is my third birth," he told reporters at a brief press conference, saying his second was after he escaped an "Israeli" attempt to kill him in Jordan in 1997.
Izzat al-Rishq, another senior member of the movement's politburo, said it was a moving experience to finally be in the Gaza Strip.
"This is the greatest feeling I've ever had. It is an unforgettable historic moment," he told AFP. "Our wish to kiss the soil of Palestine has come true."
Mahmud al-Zahar, a senior Hamas official in Gaza, said the visit was replete with symbolism.
"No matter how long a Palestinian is away from his homeland, he will always return after a victory," Zahar stressed.
Shortly afterwards, the convoy set off for Gaza City, traveling along streets decked with Hamas flags.
Hamas marks its official anniversary on December 14, but celebrations are to begin on Saturday with a major rally at which Meshaal is expected to speak.
Hundreds of thousands of supporters and guests are expected to attend the outdoor rally.
Mashaal and Gaza premier Ismail Haniyeh will ascend to the festival's stage through a gate designed like an M75 weapon, a homemade missile which Hamas resistance men used against "Israel" in the 8-day battle.
A delegation representing Fatah is scheduled to attend the anniversary events for the first time since the 2007 fighting between both parties.
During his four-day visit, Meshaal will meet members of different Palestinian factions as well as the bereaved and the wounded, Hamas officials said.