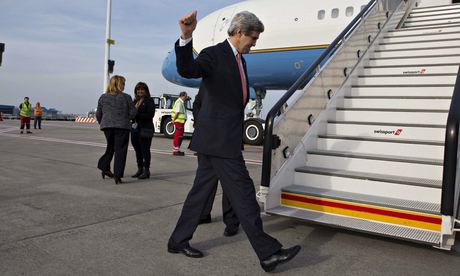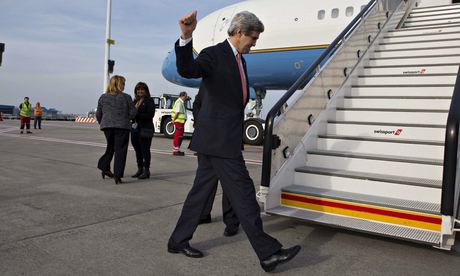 With the current round of talks between Palestinian authority and "Israelis" on the brink of collapse, the US secretary of state, John Kerry has fallen foul of just this old dynamic.
The standoff was triggered by "Israel's" refusal to release 26 Palestinian prisoners at the weekend, prompting the Palestinians to formally request accession to several international treaties.
On Tuesday, Palestinian Authority chief, Mahmoud Abbas, announced that Palestine intends to seek recognition from 15 UN bodies, Kerry's team has made a handbrake turn, with the secretary of state cancelling his scheduled visit to the Middle East.
Officials indicated that Kerry had gone "as far as he can" as a mediator.
Palestinians have insisted they are not abandoning Kerry. "We hope that Kerry renews his efforts in the coming days. We don't want his mission to fail," said Yasser Abed Rabbo, the secretary general of the Palestinian Authority, after the delivery of letters of accession to 15 international conventions signed by Abbas on Tuesday to officials including Robert Serry – the UN's special coordinator in the region.
Serry confirmed receiving the Palestinian requests, and a spokesman for the secretary general said they would be reviewing them to consider the "appropriate next steps."
The treaties include the Vienna Convention on diplomatic relations, the convention on the rights of the child, the convention against torture and one against corruption.
The Palestinian Authority has also asked Switzerland if it can join the 1949 Fourth Geneva Convention and the first additional protocol. And it has asked the Netherlands if it can join the Hague Convention of 1907 on laws and customs governing war.
The Palestinian envoy to the UN, Riyad Mansour, said the requests were "legal" and just a first wave, with more possible depending on Israel's behavior.
"The Palestinians have returned to a diplomatic intifada," one "Israeli" political official told Yediot Aharonot newspaper on Thursday.
Ahead of the three-way talks, Kerry telephoned both "Israeli" Prime Minister Benjamin Netanyahu and Abbas to discuss the situation, a US official said.
A source close to the talks quoted by the Walla news website said the chances of success were "slim, but we'll keep trying."