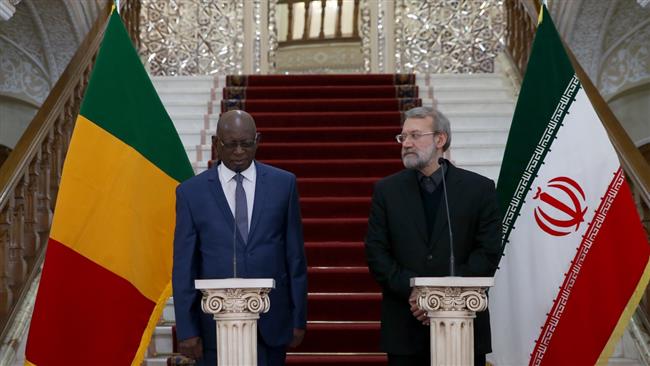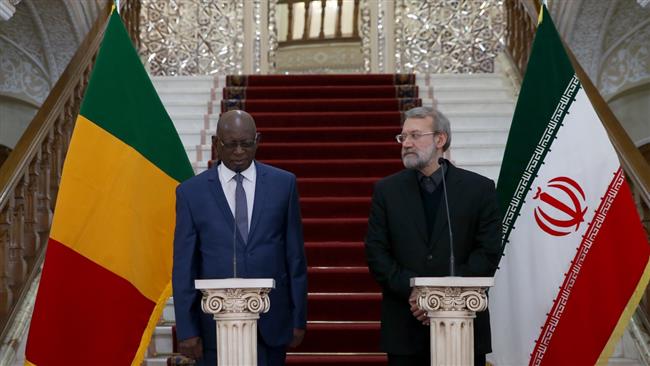 Iranian Parliament Speaker Ali Larijani says the Palestinian issue has been overshadowed by the crises gripping the Middle East region.  
"The current crises in Muslim countries have overshadowed the Palestinian issue," Larijani said during a joint press conference with his Malian counterpart Issaka Sidibé in Tehran on Wednesday.
Larijani said that Iran and Mali shared views on political developments in the region and the fight against terrorism.
He described Mali as an important African country, adding that Tehran attached high significance to its ties with Bamako.
The senior Iranian official said that he had discussed the expansion of bilateral economic and trade ties as well as the current regional developments in his meeting with the Malian official.
Larijani expressed hope that the upcoming session of the Parliamentary Union of the Organization of Islamic Cooperation (PUIC), which will be hosted by Mali on January 27-28, will take important decisions about the major challenges facing Muslim countries.
For his part, the Malian official described the Palestinian issue as highly significant for his country.
He said that Mali has expressed its opposition to all UN resolutions that were against the Palestinian people, adding that it supported the latest United Nations Security Council resolution adopted last month in support of the Palestinians.
The Malian official also said that his country would do its utmost to address Muslim countries' problems during the next PUIC conference.
In December, the UN Security Council unanimously approved Resolution 2334 against Israel with 14 votes in favor and one abstention from the US.
The resolution condemned the construction of Israeli settlements in the occupied Palestinian territories as a "flagrant violation under international law."
Some 600,000 Israelis live in over 230 illegal settlements built since the 1967 Israeli occupation of the Palestinian territories.
The international community regards the settlements as illegal as they are built on the occupied Palestinian territories. Israel has defied international calls to halt its settlement activities.