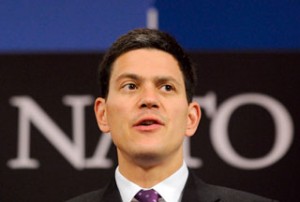 Britain says five of its nationals have been detained by Iranian naval forces after their yacht may have strayed into Iranian waters.
British Foreign Secretary David Miliband said in a statement that the five crew members were detained on November 25 in the Persian Gulf.
Miliband claimed that the yacht was en route from Bahrain to Dubai when Iranian forces arrested the Britons.
He went on to say that they are understood to be safe and well, and their families have been informed.
Foreign Office officials have contacted the Iranian authorities to try to resolve the matter, he added.
"Our ambassador in Tehran has raised the issue with the Iranian Foreign Ministry, and we have discussed the matter with the Iranian Embassy in London," Reuters quoted Miliband as saying on Monday.
Miliband also expressed hope that the issue would "soon be resolved."
The Iranian Foreign Ministry has not made an official statement on the matter.
In March 2007, Iranian forces seized eight British Royal Navy sailors and seven marines in the mouth of the Arvand Roud (known as the Shatt-al-Arab in Arabic) waterway that separates Iran and Iraq.