Africa
World News
Militant attack kills 35 civilians in Burkina Faso, 80 terrorists killed
A double militant attack in northern Burkina Faso has killed 35 civilians, almost all of them women.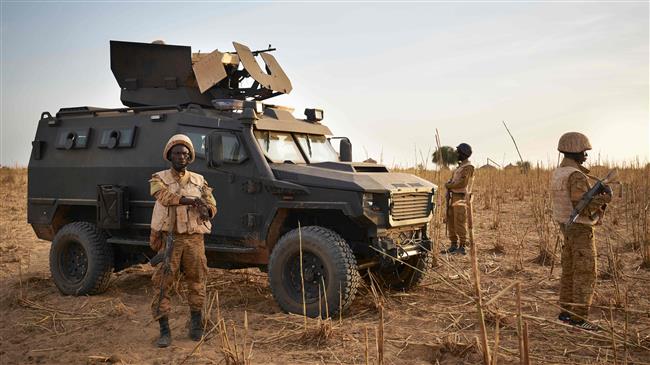 The fatalities occurred in simultaneous attacks on a military base and civilians in Arbindam, in Burkina Faso's Soum Province, early on Tuesday, the army announced on Wednesday.
Seven Burkinabe soldiers and 80 terrorists were also killed, the army added.
The attacks were carried out by dozens of militants on motorbikes and lasted several hours before armed forces, under aerial cover, ended the raid, according to the army.
Communications Minister and government spokesman Remis Dandjinou later said 31 of the civilian victims had been women.
Burkina Faso's President Roch Marc Christian Kabore described that attack as "barbaric." He also declared 48 hours of national mourning from Wednesday midnight.
No group immediately claimed responsibility for the attack.
Burkina Faso is faced with a worsening security situation in its northern regions, with almost daily terrorist attacks that have sparked a wave of panic in the country.
Takfiri terrorist groups linked to al-Qaeda and Daesh have been present across the arid Sahel region, especially in Mali and Burkina Faso.
The United Nations (UN) declared in July that the spread of terrorist attacks was so fast in West Africa that the region had to consider bolstering its response beyond the current military efforts.
In 2017, Burkina Faso, Niger, Chad, Mali, and Mauritania launched a task force to counter the militancy in the region.
To purportedly help fight the militants, France launched military operations in northern Mali in 2013.
Burkina Faso is a former French colony.
Meanwhile, the International Committee of the Red Cross (ICRC) has warned that the military approach alone would not be effective and called for greater efforts to relieve the roots of the conflict in the region, namely poverty, poor governance, and climate hazards.