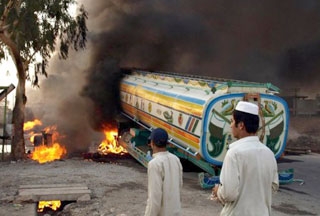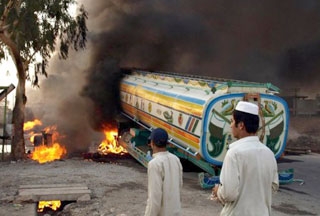 A roadside bomb attack in Pakistan's North West Frontier Province (NWFP) has destroyed two trucks carrying fuel to neighboring Afghanistan for NATO forces stationed there.
Several other vehicles were badly damaged in the attack that took place outside the northwestern city of Peshawar on Friday.
Police officials told Press TV that NATO fuel tankers caught fire during the attack. There were no immediate reports of casualties or injuries.
The incident comes days after Pro-Taliban militants near Islamabad attacked nearly 50 NATO vehicles carrying supplies for the US-led troops in neighboring Afghanistan.
Trucks carrying supplies for foreign forces in Afghanistan frequently come under attack in Pakistan.
Pakistan's lawless tribal belt on the Afghan border remains a safe haven for militants, who have fled the 2001 US-led invasion of Afghanistan.
The Pakistani military has recently launched a series of operations in an effort to clear the troubled tribal zone of militants.
The bombing shows that militants are still active in the region despite army offensives aimed at eliminating their hideouts.
A new wave of violence has undermined security in the country. Nearly 4,000 people have been killed in militant attacks throughout Pakistan since July 2007.