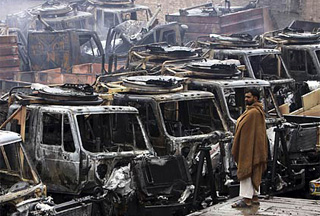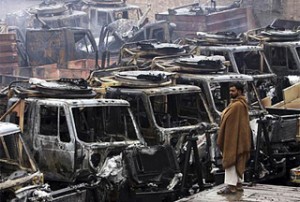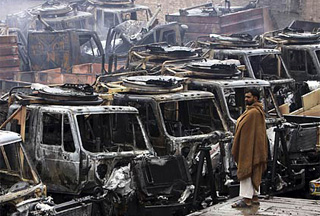 Suspected pro-Taliban insurgents in Pakistan's troubled northwest have torched several trucks and containers taking supplies to NATO-led forces in Afghanistan.
The incident took place near Pakistan's northwestern city of Peshawar.
Witnesses said at least six trucks, an oil tanker and a container were totally destroyed by the blaze.
Pakistani militants have repeatedly launched attacks on NATO trucks in region.
The US military sends three quarters of supplies for its troops in Afghanistan through Pakistan.
The attack comes against the backdrop of the US Defense Department's official request for additional troops in Afghanistan.
However, with militants extending the autonomy in Pakistan's tribal areas, the supply routs have increasingly become unsafe.
The attacks have prompted US officials to seek alternative routes for the supplies bound for the foreign troops in Afghanistan.
Violence has been increasing in Pakistan's northwest tribal belt following the 2001 US-led invasion of neighboring Afghanistan.
A series of bombings as well as other attacks have claimed thousands of lives in less than two years across nuclear-armed Pakistan.