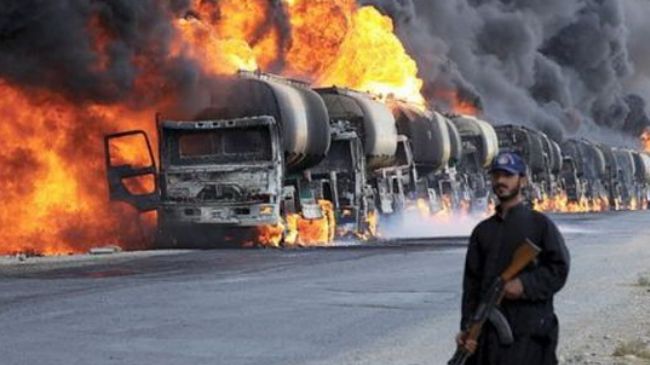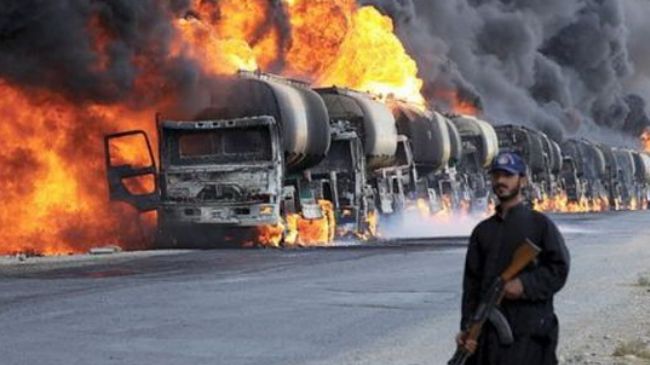 Militants have attacked a number of NATO tankers carrying fuel for US-led forces in Afghanistan's central eastern province of Maidan Wardak.
At least five tankers were torched in the attack, which occurred in Saydabad district, along the Kabul-Kandahar road on Monday.
According to local officials, a police officer guarding the convoy was killed and five others were wounded during the attack.
Authorities say at least three assailants were also killed.
The Taliban has claimed responsibility for the ambush, saying that as many as 17 fuel tankers and trucks were destroyed.
Taliban militants frequently attack trucks carrying supplies from Pakistan to the US-led forces deployed in Afghanistan. Last week, the militant group attacked a convoy of NATO fuel tankers in Afghanistan's eastern Nangarhar Province bordering Pakistan.
Taliban has stepped up its attacks against the Afghan government, foreign forces and civilians. The group has vowed to escalate the attacks on Afghan forces and US-led troops, their bases, diplomatic missions and vehicle convoys before the drawdown of the US-led foreign forces by the end of the year.
The US and its allies invaded Afghanistan in 2001 as part of the so-called war on terror. The offensive removed the Taliban from power, but the country is still gripped by insecurity.