Iran
Middle East
Military Official: Iran Ranks 5th in World in Drone Production
Head of Iran Aviation Industries Organization (IAIO) Second Brigadier General Afshin Khajeh Fard stressed the country's desired position in the world in manufacturing different types of drones.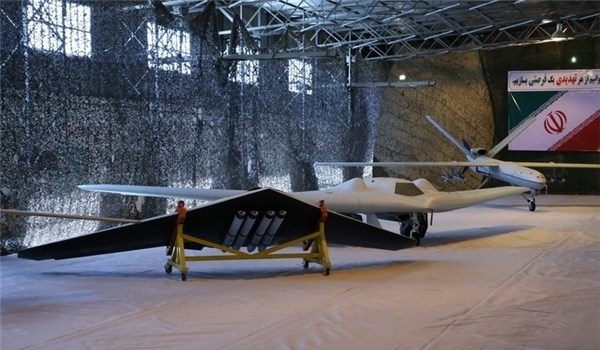 "The international bodies which assess the countries' air combat power have ranked Iran 5th world power in the field of drones or UAVs," General Khajeh Fard said on Saturday.
Elsewhere, he referred to the termination of arms sanctions against Tehran in October, and said the country has plans for cooperation with other states after embargoes are anulled and after it can also export its military products.
"We will certainly supply anything needed inside to strengthen the country's deterrence power and we will not wait for the removal or extension of the sanctions," General Khajeh Fard said.
Iran has made giant advancements in aerospace industries, specially in designing and manufacturing pilotless drones in the recent decade.
Secretary of Iran's Aviation and Space Industries Association Hamed Saeedi announced in 2018 that his country stood among the top 10 countries which have made huge progress in building drones.
"The Islamic Republic of Iran is among the top 10 world states in the field of drones," Saeedi said.
He underlined Iran's rapid progress in producing different types of drones, and expressed confidence that the country would attain a better position in this area in future.
Also, Iranian Army Deputy Commander for Coordination Brigadier General Mehdi Hadian announced last February his country's self-sufficiency in manufacturing military drones.
"Iran has gained salient achievements in the defense industry, electronic war, and training affairs, etc.," General Hadian said.
At the initiative taken by the knowledge-based companies, Iran's Army has managed to attain self-sufficiency in the field of manufacturing of drones, he added.
Iran's Army Forces enjoy hi-tech technology in the aviation industry, so, knowledge-based companies play a leading role in this field, General Hadian said.