Iran
Middle East
Military Power of Iran's Enemies Diminishing: IRGC Commander
Commander of the Islamic Revolution Guards Corps (IRGC) Major General Hossein Salami highlighted Iran's recent military achievements in the face of the US and said the military power of the enemies is diminishing.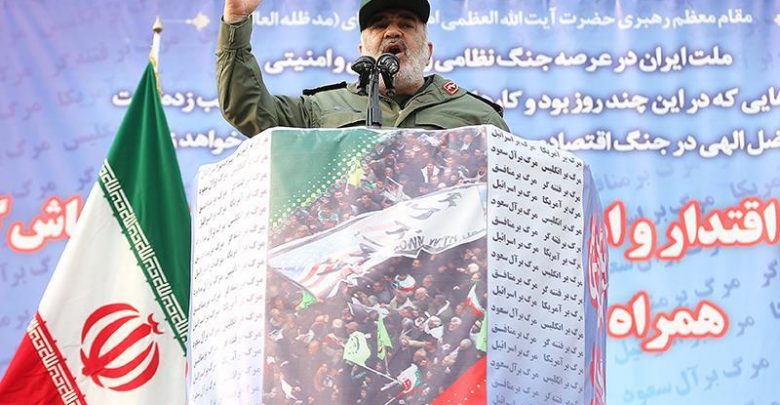 Addressing a gathering of people in Tehran on Monday, convened to condemn recent riots in Iran, Major General Salami highlighted the hostilities of the US, Britain, and Saudi Arabia toward Iran and said the countries' leaders have received "a slap" from Iran and have not been able to respond.
"Whoever wants to attack our properties, our lives and dignity will be severely punished in such a way that everyone would learn a lesson," the commander warned.
"We have shown restraint but be careful; our patience has limits. So respect the Iranian nation," he said, addressing the enemies.
"Our enemy is losing breath and its military power is decaying…," the IRGC commander went on to say.
Following a hike in the price of gasoline earlier this month, a number of Iranian cities saw sporadic protests that turned violent in some cases. A number of banks and government buildings were set ablaze.
Meanwhile, anti-Iranian media outlets as well as some Western officials, including US Secretary of State Mike Pompeo, voiced their support for the rioters who took advantage of the protests in a number of Iranian cities.
In an address on November 17, Leader of the Islamic Revolution Ayatollah Seyed Ali Khamenei warned that the sporadic protests and acts of vandalism in Iran would create insecurity.
Describing insecurity as the worst calamity for society, the Leader said that "all evil centers in the world" have mobilized efforts in recent days to encourage unrest in Iran.
Ayatollah Khamenei also called on the Iranian authorities to be careful that the rise in the price of fuel would not increase the price of other commodities.
The Leader also called on the people to separate themselves from a group of thugs who are encouraged by the foreign-based anti-Iranian front to foment insecurity.