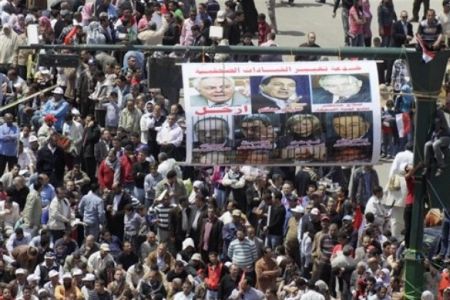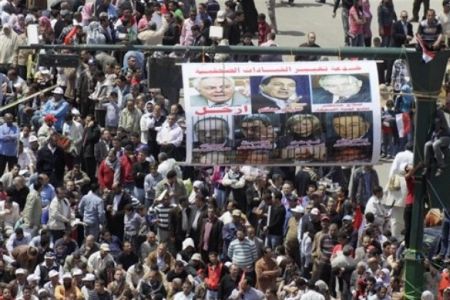 Over one million Egyptians have gathered in Cairo's Liberation Square, demanding the swift prosecution of former dictator Hosni Mubarak and his close associates.
Millions of protesters marched to Liberation square on the day they dubbed the "Day of Trial and Cleansing".
Protesters demanded the prosecution of officials belonging to the former regime –mainly the ousted president Mubarak and his family.
They accuse the Supreme Council of the Armed Forces — now in power — of corruption and thwarting the goals of the revolution.
Protesters have promised to continue their mass demonstrations until their demands for social reforms are met and former regime figures are tried. They also want the army to hand over power to a civilian government as part of the promised reforms.
The protests come weeks after Mubarak handed over power to Egypt's Supreme Council of the Armed Forces, which is headed by Defense Minister Gen. Mohammed Tantawi.
Activists demand the release of political prisoners, the lifting of a 30-year-old state of emergency and the disbandment of the military court.
Egyptians say that they are skeptical about a rapid transition towards democracy and civilian rule and maintain that demonstrations will continue until all their demands are met.
Egypt's army has recently promised to lift the emergency rule ahead of the slated parliamentary and presidential elections.
This comes as people across the Arab world are holding another day of rage against their autocratic rulers. People in several Arab countries are holding mass anti-government rallies.