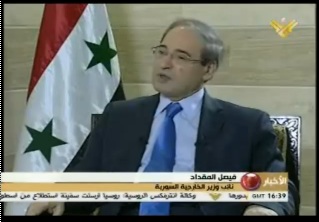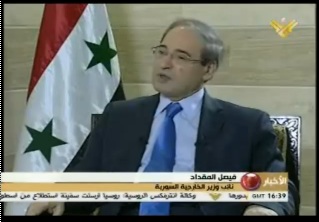 Syrian deputy Foreign Minister Faysal Miqdad stressed on Monday his country's readiness to confront any aggression waged against it, underlying that any attack on Syria will set the whole region ablaze.
"We all know that the West cannot be trusted, because of this we are ready for confrontation and for anything that might happen," Miqdad said.
"Any attack on Syria will set this region ablaze. When the first rocket got fired, no one can predict the resulted repercussions," he added.
During an exclusive interview with Al-Manar TV, the Syrian deputy FM criticized Riyadh position of Syria, and pointed out that the Saudi regime wants to end Syria by every means, to serve the American and Zionist interests.
"The Saudi regime is fallen since long in its people's eye, as well as in the Arab nation's eye. They are facing now the battle of challenge and last downfall."
Fielding a question about the Saudi hastening to attack Syria, Miqdad justified it as spite, hatred:
"This is the attitude of the salve who seeks to pacify his master and to present more services which have not been requested."
Addressing the Lebanese file, the Syrian politician expressed beliefs that Lebanon is strong due to its will and diplomats.
"Lebanon is strong because it has the will and the foreign ministers who are able to be united and defend the Lebanese interest," Miqdad stressed.