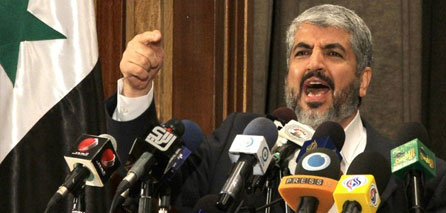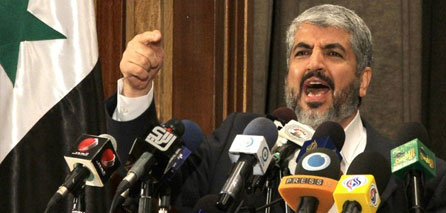 Hamas political bureau chairman Khaled Mishaal has affirmed that the West Bank would restore its resistance program and that the siege on Gaza Strip would end soon.
Mishaal, speaking in an interview with Jordanian weekly "Al-Sabeel" to be published on Sunday, said that Hamas was ready for resuming indirect negotiations on a prisoners exchange deal with Israel.
He said that his movement would seek to capture more Israeli soldiers if one was not enough to release the Palestinian prisoners.
Mishaal said that resistance was the spearhead in foiling any attempt to turn Jordan into an alternative homeland for the Palestinian people.
He said that a veto was obstructing inter-Palestinian reconciliation, adding that Turkey was not allowed to mediate in the reconciliation file.
In Gaza, deputy premier and minister of local government Ziyad Al-Zaza told reports on Saturday that there was no connection between the issue of the captured Israeli soldier Gilad Shalit and the Gaza crossings.
He said that Shalit's freedom is linked to the release of the Palestinian prisoners as demanded by the resistance factions capturing Shalit.
The minister, who was inaugurating a new market in central Gaza, also demanded an immediate and permanent end to the siege on Gaza.