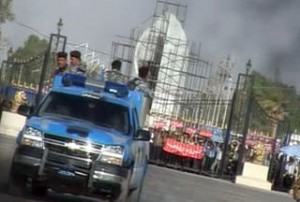 The death toll of an anti-Iran terrorist group based in Iraq's Diyala province in northern Baghdad has risen to eleven, a senior Iraqi security official says.
Iraqi security forces on Tuesday attacked Camp Ashraf, the training base of the Mujahedin-e Khalq Organization (MKO) — about 60km (37 miles) north of Baghdad –.
"According to our information seven died on Tuesday and four in the two following days," AFP quoted a senior security official in Diyala province as saying on Thursday.
According to the official, around 300 of the MKO members have been wounded and more than 50 others arrested.
The MKO was founded in Iran in the 1960s, but its top leadership and members fled the country in the 1980s after carrying out a series of assassinations and bombings inside the country.
The terrorist group is especially notorious in Iran because they sided with former Iraqi dictator Saddam Hussein during the 1980-1988 Iran-Iraq war.
The United States, Canada, Iraq, and Iran have all designated the MKO as a terrorist organization.