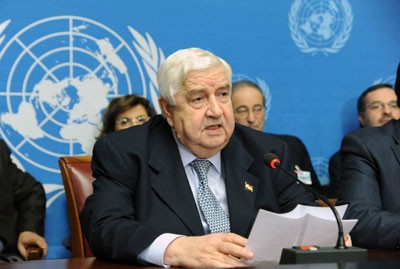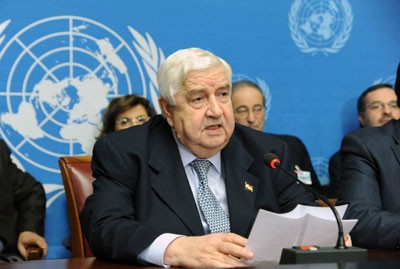 Syria Foreign Minister Walid Moallem stated that GenevaMoallem talks did not reach any concrete results due the immaturity, stubbornness and lack of seriousness which characterized the performance of the other delegation.
"USA interfered in the conference to blast it, what led to tense environment during the talks."
"We attended the Geneva to discuss all the issues; however, the other side insisted on discussing only one matter."
Moallem considered that the US is supporting the terrorist groups in Syria, refuting its claims that it arms only "moderate" opposition and stressing that there is no "moderate" yet just terrorist opposition.
Moallem wondered whether the members of the opposition's delegations are Syrian since they refused fighting terrorism, as he said.
Syria top diplomat revealed that he had told Brahimi that the internal opposition and the civil society bodies must be represented in the conference in order to have a comprehensive attendance.
Moallem said that Geneva I statement did not tackle the issue of the presidency, adding that the Syrians can settle their destiny away from foreign interference.
Moallem denounced all "the forged accusations that are being promoted by the TV channels that are partners in shedding the Syrian blood."
Syria FM asked how the SNC members can contribute to building Syria Future as they are away from the Syrians and their conditions and aspirations.