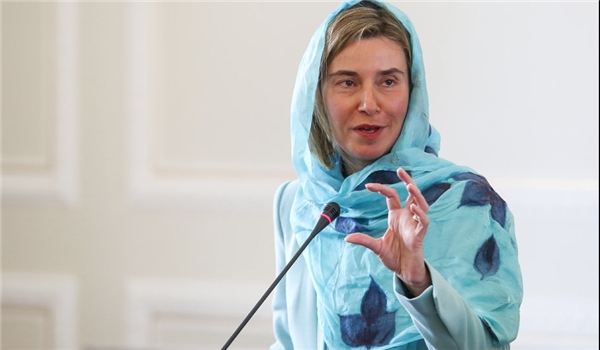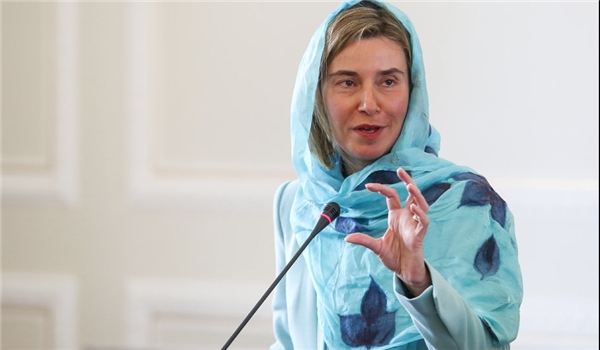 European Union Foreign Policy Chief Federica Mogherini said the EU is not concerned about Iran's missile program which is being developed for defensive purposes, underlining that the Iranian missile tests do not violate the nuclear agreement.
"We have several times said in Brussels that these (missile) tests do not violate the nuclear agreement and we are not so much concerned about it," Mogherini said in a joint press conference with Iranian Foreign Minister Mohammad Javad Zarif in Tehran on Saturday.
She referred to the goals of her visit to Iran, and said, "7 EU Commissionaires from different scientific, economic, transportation and energy fields are accompanying me today."
Mogherini elaborated on different fields for the expansion of economic cooperation with Iran, and said, "We have held talks on economic cooperation and we are focusing on a large extent of issues as the necessary grounds exist for the expansion of bilateral ties."
Iran and the EU issued a joint statement at the end of Mogherini's meeting with Iranian Foreign Minister Mohammad Javad Zarif today on how to further the two sides' cooperation.
Addressing a press conference in Brussels in March, Mogherini had announced her visit to Iran, adding that she would be accompanied by a delegation of European Commission members for discussion on bilateral EU-Iran relations, which have new perspectives in sight following the removal of sanctions on Tehran.
The EU foreign policy chief said she would discuss bilateral ties and regional developments during her upcoming visit to Iran.
In July 2015, Tehran and the six world powers reached a historic deal on Iranian nuclear program, which was set to ensure the peaceful nature of its nuclear program in exchange for the termination of anti-Iran sanctions.
In mid-January, the sanctions were removed after the International Atomic Energy Agency (IAEA) verified Tehran's compliance with the nuclear agreement. The move makes it possible for Iran to develop relations in different spheres with the European Union.