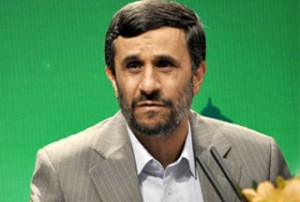 With the end of a deadline set for the Iranian President Mahmoud Ahmadinejad to submit the new Cabinet line-up to Parliament, speculations about the nominees remain.
On Wednesday, Fars News Agency provided a new list of Ahmadinejad's proposed ministers who will be introduced to Majlis for a vote of confidence. The proposed ministers are:
Kamran Daneshjou — nominated to head the Ministry of Science, Research and Technology — holds a PhD degree in Aerospace Mechanics. He has served as political deputy interior minister, head of the elections headquarters and Tehran governor general.
Mostafa Mohammad-Najjar — nominated to head the Ministry of Interior. Mohammad-Najjar holds a BA in Mechanical Engineering and an MA in Executive Management. He was the defense minister in Ahmadinejad's first four-year term and has carried out many executive management-related activities in the Islamic Revolution Guards Corps (IRGC).
Manouchehr Mottaki is to remain in his post as the foreign minister. Mottaki got his BA in Social Sciences from Bangalore University in India and his MA in International Relations from Tehran University. He is a former lawmaker and was Iran's ambassador to Ankara and Tokyo.
Mohammad Hosseini – nominated to lead the Ministry of Culture and the Islamic Guidance. Hosseini completed his PhD study in Religious Jurisprudence at Tehran University. He has served as deputy minister of science, head of Payam-e Nour University, a member of the Parliament and deputy head of the Islamic Republic of Iran Broadcasting (IRIB).
Incumbent Mohammad Soleymani or Reza Taqipour will be the minister of Communications and Information Technology.
Taqipour has been working as deputy communications minister, head of the Iranian Aerospace Organization and managing director of Iran's Telecommunications Industries.
Abdol-Reza Sheikholeslami will be introduced to Majlis as the minister of labor and social affairs. He holds a Bachelor of Science (B.S.) degree in civil engineering. Sheikholeslami has served as governor general of Hormozgan, head of the presidential office and assistance to Ahmadinejad.
Sousan Keshavarz is to head the Education Ministry. Keshavarz, who holds a PhD degree in philosophy, was deputy education minister.
Massoud Mir-Kazemi is Ahmadinejad's proposed oil minister. He got his PhD in Industries Engineering from Tarbiat Modares University. He was deputy commerce minister and head of Shahed University.
Mohammad Aliabadi has been nominated to be the minister of energy. Aliabadi, who holds a B.S. degree in civil engineering, has served as Tehran's deputy mayor and vice-president and head of the Physical Education Organization.
Sadeq Khalilian is proposed to head the Commerce Ministry. He got his PhD in Economics from Tarbiat Modares University. Khalilian was deputy agricultural jihad minister and a university professor.
Ali Nikzad is the nominee to head the Ministry of Housing and Urban Development. He holds a Master of Science degree in civil engineering and has served as deputy interior minister, head of the Organization of Municipalities and Rural Administrations (OMRA) and governor general of Ardebil.
Hamid Behbahani is expected to remain in his post as the minister of Roads and Transportation. Behbahani got his Professional PhD in civil engineering.
Hojjatoleslam Mohammad Montazeri is to be introduced as the justice minister.
Ahmad Vahidi is the nominee for the Ministry of Defense. He has served as deputy defense minister and was also the head of the political, defense and security commission of the Expediency Council.
The Iranian president will propose Habibollah Bourbour to lead the Ministry of Agricultural Jihad. Bourbour has previously held the position of deputy interior minister.
On Sunday, Ahmadinejad disclosed the names of six members of the new line-up in a televised address.
He nominated Ali-Akbar Mehrabian as the Minister of Industries and Mines, Seyyed Shamseddin Hosseini as the Minister of Economy, Hojjatoleslam Heidar Moslehi as the Intelligence Minister and Mohammad Abbasi as the Minister of Cooperatives.
He also named Fatemeh Ajorlou as the Minister of Welfare and Social Security and Marzieh Vahid-Dastjerdi as the Iranian Health Minister.