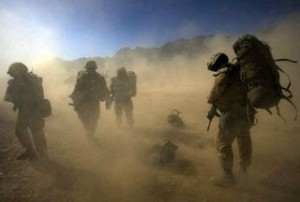 The number of Britons who lost confidence in the war in Afghanistan has increased by more than 10 percent over the past two years.
A survey conducted by YouGov poll for Channel 4 News revealed that some 48 percent of participants that believe troops were not winning the war and victory "is not possible" — a surge from 36 percent in August 2007.
The eight-year-old war in Afghanistan has been very costly for Washington and its allies in Europe. A total of 222 British personnel have so far died in operations there.
Despite the presence of over 100,000 US and NATO troops, the escalated militancy has made the current year the deadliest yet for foreign forces, as well as for Afghan civilians, who are the main victims of the conflict.
According to the poll, 62 percent wanted a complete withdrawal from Afghanistan within a year, three points down on 2007, but within the margin of error.
However, those saying that troops should stay as long as Afghanistan's government wants them, has raised from 25 to 29 percent, AFP reported.
Earlier this month, UK Prime Minister Gordon Brown announced plans to send an additional 500 troops on top of the 9,000 already deployed in Afghanistan.
Meanwhile, hundreds of people were on London's streets in support of a 'Stop the War, Bring the Troops Home' demonstration, led by a British soldier who faces court martial because he refuses to return to fight in Afghanistan.
Some 2,042 adults participated in the survey, conducted on Thursday and Friday.