Syria
More terrorists surrender in southwest Syria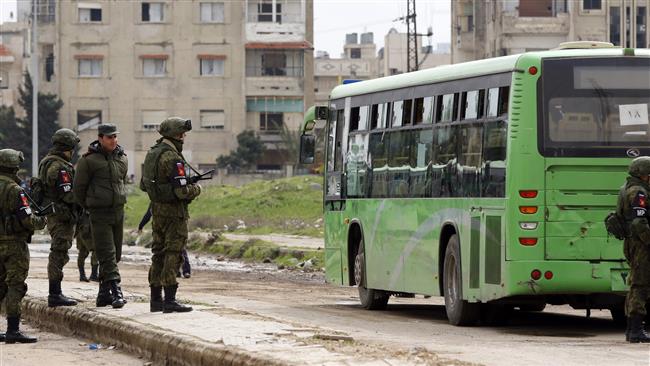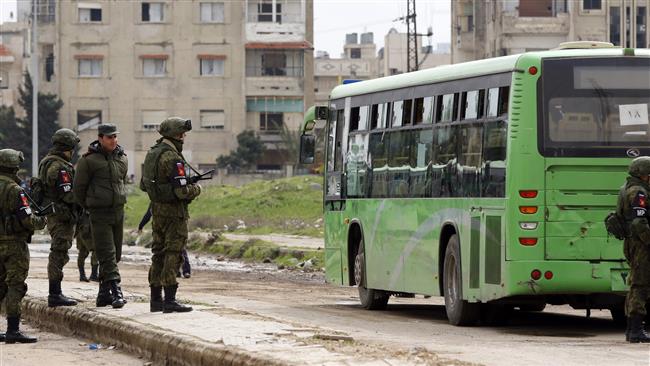 Militants operating in Syria have surrendered in an area in the country's southwest under a deal with the government enabling their evacuation to the northwestern Idlib Province.
The militants began leaving Beit Jin Village on Friday, Reuters reported. It cited a "field officer" as saying that once the evacuations are through, the village would return to the "homeland Syria."
Damascus has liberated numerous areas across the country on the back of similar agreements.
The government is, meanwhile, advancing in Idlib. The province holds the largest concentration of militants and Takfiri terrorists.
Discovery of US-made arms
Separately, a Syrian army unit discovered large weapon caches in Dayr al-Zawr, the official Syrian Arab News Agency (SANA) reported on Friday.
The weapons included mortar rounds, various machineguns, and rockets, a number of which were US-made.
This is not the first time Syrian forces find foreign-made weapons in militant strongholds. Weapons made by NATO member states as well as by Israeli have been found in the past.
Mass graves in Raqqah
Also on Friday, SANA said two mass graves had been found in the countryside of the northern city of Raqqah.
The graves contained the bodies of civilians and servicemen executed by the Takfiri terrorist group of Daesh, which used to occupy the city.
SANA cited a military commander as saying that the mass graves had been found in the town of al-Wawi in the city.
The government of Syrian President Bashar al-Assad has faced militancy since March 2011, when regimes opposed to him armed and financed some of his domestic political foes in an attempt to have him forcefully removed from power. Those armed factions were soon joined by an array of international terrorists pouring into the country to help oust Assad.
But the government in Damascus persevered as different factions of the society rallied around Assad in the face of all-out militancy. Syria's allies, Iran and Russia, also offered advisory military help, and Moscow launched an aerial bombardment campaign against extremist groups in the country in September 2015 on a request from the Syrian government.