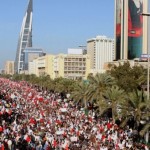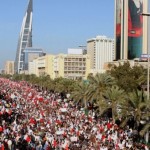 Hundreds of pro-democracy protesters have held a rally outside Morocco's parliament building, calling for political reforms in the northwest African kingdom.
Human rights activists and the capital city's youths participated in the peaceful protest that began in the center of Rabat on Sunday.
Demonstrations were also held in Morocco's biggest city Casablanca and the northern port of Tangiers, AFP reported.
In Casablanca, the protesters carried placards reading "Dignity" and "Social Justice." They denounced the concentration of money and power. Last weekend, nearly a thousand people rallied in Casablanca despite a heavy police presence.
The protesters have been demanding limited powers of the monarchy and the establishment of social justice. They have also called for the dismissal of the government and a clamp down on state corruption.
Thousands of Moroccans took to the streets on February 20 in the first major demonstration the country has witnessed since the uprisings across the region.
King Mohammed VI told union leaders last week that he favored reforms, without elaborating on the type of reforms and a time frame for their introduction.