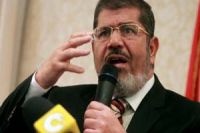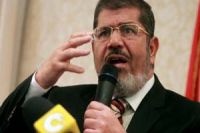 Egyptian President Mohamed Morsi has condemned the recent wave of the Zionist regime attacks on the Gaza Strip as a "blatant aggression against humanity."
He said after Friday prayers at a Cairo mosque, "Egypt will not leave Gaza on its own… What is happening is a blatant aggression against humanity".
Morsi noted, "I tell them (Israelis) in the name of all the Egyptian people that the Egypt of today is not the Egypt of yesterday and that the Arabs of today are different than the Arabs of yesterday".
Morsi sent Prime Minister Hisham Qandil to Gaza on Friday, where he vowed to intensify efforts to secure a truce and end Israel's aggression against the besieged Palestinian enclave.
He said, "Egypt will not hesitate to intensify its efforts and make sacrifices to stop this aggression and achieve a lasting truce".