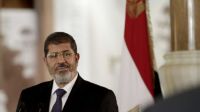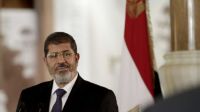 Egyptian President Mohamed Morsi has announced that a referendum on a new constitution will be held on December 15, 2012.
According to Press TV, at an official ceremony in Cairo on Saturday, during which he received a copy of the final draft of the constitution and set the date for the referendum, Morsi delivered a speech to Egypt's Constituent Assembly in which he said, "I tell our great people, the opponent before the supporter, help me with all your strength to fulfill the responsibility that you have entrusted upon me to manage the nation's affairs."
He said "This responsibility makes it imperative in front of God, you, the Egyptian nation, and the world that I forge ahead and not hesitate to carry out the will of this nation."
He noted "There are challenges for us in the future, at home and abroad," adding "We are capable as Egyptian people."
Earlier in the day, tens of thousands of Egyptians held demonstrations across the country in support of Morsi and the draft constitution, which states that the nation will be governed by the principles of Islamic law.
On Friday, Morsi's opponents held a massive demonstration in Cairo's Tahrir Square to protest against the decree giving the president expanded powers and to express their opposition to the draft constitution.
On November 22, Morsi issued a decree declaring that no judicial body can dissolve the Constituent Assembly, which was writing the draft of the constitution.