Egypt
Morsi stands trial as supporters gather outside court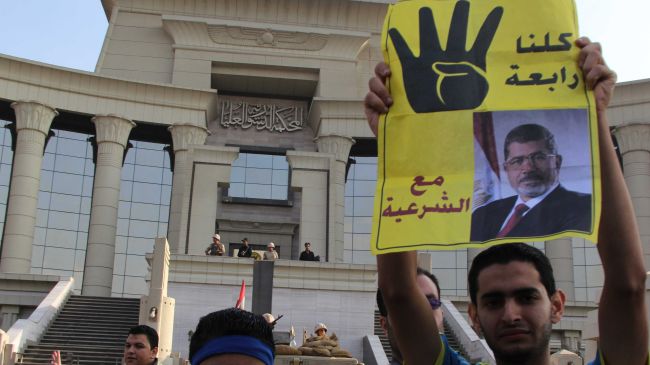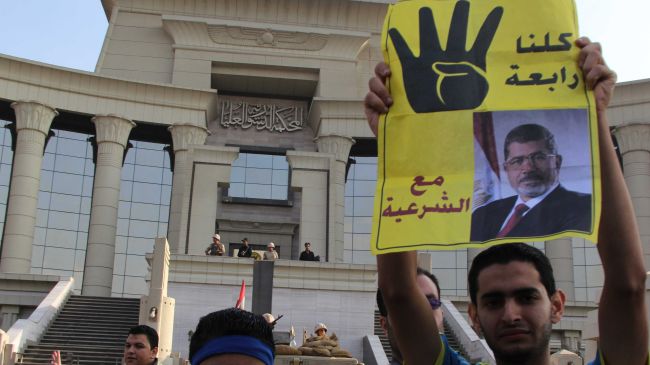 The trial of Egypt's ousted president Mohamed Morsi has begun in the capital, Cairo, as his supporters gather outside the courthouse.
Morsi was brought to court on Monday to face charges in connection with the deaths of protesters during clashes outside the presidential palace in December 2012.
The charges against Morsi could lead to the death penalty or life in prison.
The hearing was Morsi's first public appearance since he was arrested when the military ousted him on July 3.
Supporters of the ousted president also gathered outside the courthouse on Monday.
Fourteen Muslim Brotherhood officials including three aides to Morsi will also stand trial on Monday.
Egypt's state TV said the judge suspended the hearing after the defendants disrupted the proceedings by chanting. The report added that the adjournment is likely to last till later on Monday.
Security officials speaking on the condition of anonymity also said the delay was caused when Morsi resisted wearing the prison uniform customarily worn by defendants.
The Muslim Brotherhood has called the charges against Morsi fabricated, demanding that its supporters pour into the streets in protest.
An anti-coup alliance that supports Morsi has stated that he would not cooperate with authorities as he does not recognize authority of the court.
On Sunday, Egyptian authorities changed the venue of the trial over growing fears of violence and bloodshed. The last-minute change came after Morsi supporters called for a major demonstration outside the initial venue.
The trial comes shortly after a visit by US State Secretary John Kerry to Cairo. Kerry met with high-ranking Egyptian authorities, where he pledged Washington's support for the interim Egyptian government.