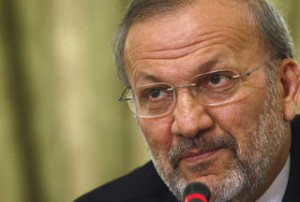 Iranian Foreign Minister Manouchehr Mottaki says Tehran's international conference on nuclear disarmament will focus on the complete elimination of nuclear weapons in the world.
"We believe that all countries should work towards complete nuclear disarmament. There should be no exception," Mottaki told reporters upon his arrival in Tehran on Sunday after he wrapped up an African tour.
"Talks on nuclear disarmament relate to countries that possess them (nuclear weapons) along with the five permanent members of the UN Security Council," he added.
Mottaki said the conference aims to "show Iran's transparent will and sensitive stance on nuclear weapons" and added that the Islamic Republic has been committed to nuclear disarmament.
"We believe that even there are individuals in the United States who oppose nuclear arms," the Iranian minister said.
Iran will host the international conference on nuclear disarmament, dubbed Nuclear Energy For All, Nuclear Weapons For None, on April 17th and 18th.
Earlier on Sunday, Iranian Foreign Ministry Spokesman Ramin Mehmanparast said that officials from various countries, international organizations, and non-governmental organizations have been invited to attend the conference.
Iranian President Mahmoud Ahmadinejad and head of the Atomic Energy Organization of Iran Ali Akbar Salehi will deliver speeches at the conference.
Meanwhile, Iran will unveil a recent nuclear achievement during the two-day meeting.