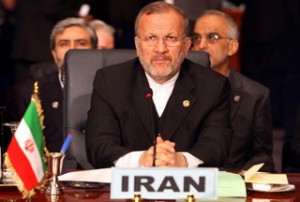 Iran's Foreign Minister Manouchehr Mottaki says the country will pursue a new course in its foreign policy, urging European states to "adapt to new realities".
In a meeting with the Syrian President Bashar al-Assad in Tehran on Wednesday, Mottaki noted that President Mahmoud Ahmadinejad's re-election has paved the way for further expansion of ties between Tehran and Damascus, the ministry said in a statement.
Pointing to regional developments, Mottaki stressed that Iran and Syria should hold "closer negotiations" to expand their bilateral friendly relations to other "friend countries" in the Middle East region.
Assad for his part said that Iran-Syria talks "have always strengthened ties between the two countries."
"Whenever we hold talks, we get familiar with new goals and we find new grounds and opportunities for our common interests," the Syrian President said.
Assad highlighted Iran's key role in the region and called for "regular consultations" between the foreign ministers of the two countries in order to realize the "great goals" of the two nations.
The Syrian President arrived in Tehran on Wednesday for a two-day visit to discuss the latest regional developments