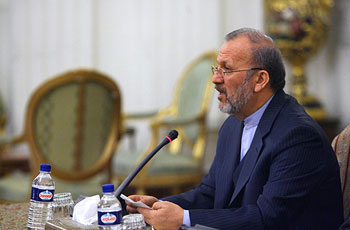 Foreign Minister Manouchehr Mottaki says the recent resolution passed by the International Atomic Energy Agency (IAEA) against Tehran will not stop Iran from developing its nuclear program.
In a statement published on Iran's Foreign Ministry's website, Mottaki said that the move came as Tehran was fully cooperating with the agency on its nuclear activities.
The IAEA has passed a resolution — drafted by the United States, Germany, France, Britain, Russia and China — demanding Iran halt all construction work at the Fordo nuclear facility.
Mottaki reiterated that the agency has consistently verified the peaceful nature and the non-diversion of Iran's nuclear program.
He added that the issue has been completely politicized by Western countries.
Iran says it has the right to develop its nuclear program and has fulfilled all its commitments as a signatory to the nuclear Non-Proliferation Treaty (NPT).