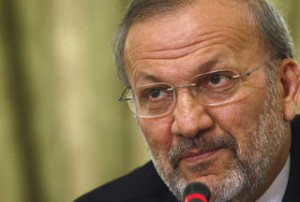 Iranian Foreign Minister Manouchehr Mottaki describes Iran and Algeria relations as friendly and strategic.
The Iranian official made the remark upon his arrival in the Algerian capital of Algiers on Wednesday.
"Ways to develop the relations and cooperation between Iran and Algeria will be discussed during this trip," Mottaki told reporters at the airport.
"The Iran-Algeria Joint Commission will soon be set up," he went on to say.
The Iranian minister also pointed out that he would submit President Mahmoud Ahmadinejad's invitation to his Algerian counterpart to take part in the Group of 15 meeting to be held in Tehran.
"The members of the Group of 15 have made some new plans to boost their cooperation," Mottaki explained.
"The latest regional developments in Iraq, Afghanistan and Palestine will be discussed by the Iranian and Algerian sides in this trip," Mottaki concluded.
Composed of countries from North America, South America, Africa and Asia, the G-15 focuses on cooperation among developing countries in the areas of investment, trade, and technology.
Even though its name has remained unchanged, the membership of the G15 has expanded to 18 countries.