Mottaki says Iran interests come first in talks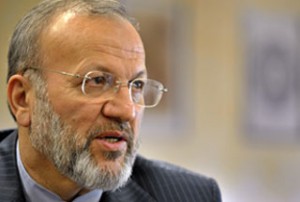 As Iran and the world major powers are set to start a new round of nuclear talks, Tehran stresses the importance of paying attention to its technical and economic considerations.
"In all circumstances, interests of the Islamic Republic of Iran should be taken into considerations," Iranian Foreign Minister Manouchehr Mottaki was quoted by the Islamic Republic of Iran Broadcasting (IRIB) website as saying.
"Certain members of the technical committee of the International Atomic Energy Agency (IAEA) have announced that a new round of technical talks should open to address Iran's considerations and conditions," he said.
He noted that the exact date of talks between Iran and the five permanent members of the UN Security Council — Russia, China, Britain, France and the United States — plus Germany (P5+1) is yet to be set.
Mottaki pointed to technical talks held on supplying 20 percent-enriched uranium fuel for the Tehran research reactor and said, "Iran's ambassador to the IAEA [Ali-Asghar Soltaniyeh] will respond to the proposal based on Iran's considerations and views."
The IAEA presented a draft proposal to Iran, France, Russia and the United States after a meeting in Vienna on October 19. While the three powers have supported the deal, Iran has yet to announce its final decision.
The deal would require Iran to ship out 80 percent of its low-enriched uranium (LEU) in exchange for highly-enriched uranium converted into metal fuel rods for the Tehran research reactor.