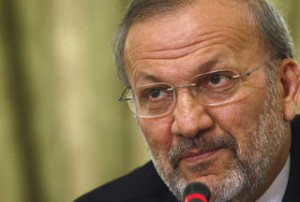 Iran's Foreign Minister Manouchehr Mottaki says that all countries should work toward nuclear non-proliferation and try to make a world free from nuclear weapons.
Addressing worshippers gathered for the Friday prayers in Tehran, Mottaki said that the US is trying to deceive the world about its nuclear weapons.
He pointed out that the US nuclear summit was a "show-off," adding that "those who possess nuclear weapons are not trustworthy."
Referring to the US atomic bombs dropped on two major Japanese cities of Nagasaki and Hiroshima during World War II, which killed 220,000 civilians, he said, "Many years later [former US President Dwight D.] Eisenhower said that all countries should try to make a world free from nuclear weapons."
Mottaki went on to say that the Nuclear Non-Proliferation Treaty was approved 40 years ago and contained three major issues of nuclear disarmament, non-proliferation and the right to make peaceful use of nuclear energy.
"Today, what the world leaders say about nuclear disarmament is totally different from what Eisenhower said 40 years ago," he added.
Referring the recent statements by US President Barack Obama about Iran, the minister said that making such threats is a crime and that the US must be held accountable for its misdemeanor.
Mottaki stated that the West has not made any achievement in the field of non-proliferation.