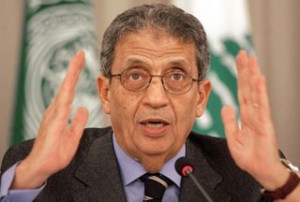 Arab League chief Amr Moussa has reiterated calls for the freeze of settlement expansion in East Jerusalem al-Quds as a crucial precondition for indirect peace talks between the Israelis and Palestinians.
Speaking on the eve of an Arab summit in the Libyan city of Sirte, Moussa said Israel has to scrap its plans to construct 1,600 new housing units in the occupied city before indirect talks with the Palestinians can resume, AFP reported on Friday.
"Indirect Palestinian-Israeli peace talks depend on freezing settlements and especially on cancelling plans by Israel to build 1,600 settlements in (East) Jerusalem," he added.
The plan, which was announced during a visit by US Vice President Joe Biden, ignited "the most severe crisis since 1975" between the two allies.
US officials have slammed both the new construction and the timing of the announcement of the plan as insulting and destructive to peace efforts and demanded that Israel reverse the plan in East Jerusalem al-Quds.
Israeli Prime Minister Benjamin Netanyahu, however, has rejected international demands for the halt in settlement expansion.
A statement released by his office on Friday said "the prime minister's position is that there is no change in Israeli policy on Jerusalem."