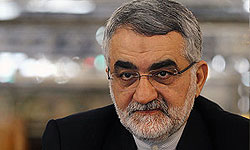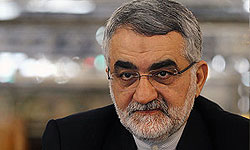 Head of the Iranian Parliament's National Security and Foreign Policy Commission Alaeddin Boroujerdi strongly condemned the recent bomb attack on the Shiite community in Karachi, and urged all Pakistani security and intelligence bodies to show proper reaction to such inhumane acts.
"Pakistan's intelligence agencies should expedite their efforts for the arrest and execution of anti-Shiite terrorists in the country," Borujerdi told the parliament news agency on Monday.
He further called on Muslim scholars and thinkers to adopt stricter stances against the massacre of Shiites.
In a statement on Monday, the Iranian Foreign Ministry strongly deplored the Sunday terror attack on Shiite Pakistanis that left at least 45 dead in Karachi.
The ministry expressed sympathy with the relatives of the victims, and added that such terrorist moves serve the divisive policies of the enemies of Pakistan's Muslim nation and harm the country's interests.
The statement called on the Pakistani government and prominent religious figures in the country to take proper actions to prevent similar attacks in future.
The statement also asked the international community to play a serious role in an all-out fight against terrorism which is considered as a threat to all nations.
Police officials announced later on Sunday that at least 45 people have been killed by the bomb explosion in Karachi.
The blast in the mainly Shiite Muslim area of Abbas Town destroyed several buildings and set others on fire. Some reports spoke of a second explosion.
No group has yet said it planted the bomb, which went off near a mosque as worshippers left evening prayers.