Iran
MP: Iran's Parliament Studying Bills to Support Muslim Elite Women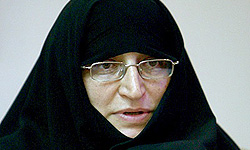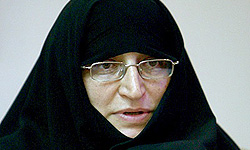 An Iranian lawmaker announced on Sunday that the country's parliament is studying several bills to provide elite Muslim women with support and backings in a bid to help independence of Islamic states.
"The Islamic Consultative Assembly is studying some bills to back elite women as part of its intention for helping independence of Islamic states," member of the parliament's Cultural Commission Laleh Eftekhari said in a meeting with a Malaysian women rights activist Noor Hamidah here in Tehran.
Eftekhari further added that rules and regulations of the Islamic Republic of Iran on women and family have been approved on the basis of Islam and have always been welcomed by other countries.
Early February, Iranian Foreign Minister Ali Akbar Salehi underlined Tehran's preparedness to cooperate with the other countries to formulate and compile legal documents and create conventions on women's rights.
"The Islamic Republic assures you that it is ready for any cooperation and consultation with the other countries in compiling legal documents and forming conventions on women's rights," Salehi said at that time, addressing a conference on women in Tehran.
Supreme Leader of the Islamic Revolution Ayatollah Seyed Ali Khamenei in his remarks in May lambasted the western countries for their instrumental use of women, describing the West's wrong view about woman as the root cause of the different problems existing in the western families.
"In the wrong equation that the West has gradually induced and inspired in the different societies, the human being is divided into two parts; Men who are considered as beneficiaries and women who are exploited and used," Ayatollah Khamenei said at that time, addressing a large number of Iranian women on the threshold of the 'Women's Day' in Iran marking the birthday anniversary of Islam's number one woman Hazrat Fatema (AS), daughter of Prophet Mohammad (PBUH), spouse of Shiite's first Imam and mother of Shiite Islam's second and third Imams.
Based on this very wrong view, if women in the West want to prove themselves as renowned personalities in the society, they should behave in a way that men, as the beneficiaries, like, and this insult is the biggest oppression and cruelty against women," Ayatollah Khamenei added.