Iran
Middle East
MP: No Toll in Terrorist Attack on IRGC Vehicles in Southeastern Iran
Representative of Zahedan city at the Iranian Parliament Fada Hossein Maleki said that the early Tuesday roadside bomb attack by Jeish Al-Adl terrorist group on vehicles carrying and escorting the Islamic Revolution Guards Corps (IRGC)'s regional commander has left no casualties.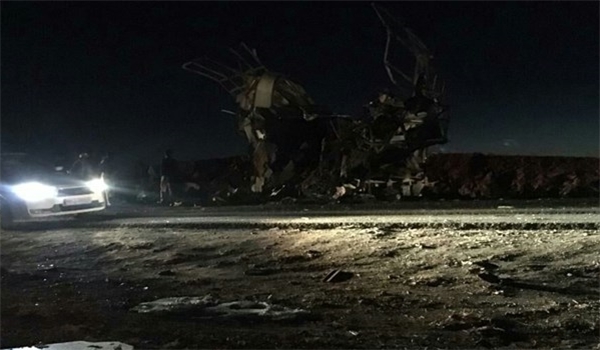 "The terrorist attack on the IRGC vehicles has left no casualties," Maleki told FNA on Tuesday.
He added that the attack was carried out by Jeish al-Zolm (the corps of cruelty as Jeish Al-Adl is called in Iran) while two vehicles of the IRGC forces were going through Korin region, near Zahedan, in Sistan and Balouchestan province in Southeastern Iran.
Maleki said that two roadside bombs were planted in the region and one of them was detonated as two IRGC vehicles were on the move in the same the region, adding that the IRGC's regional commander has been wounded in the attack.
He also dismissed rumors that a number of IRGC forces were taken captive by the terrorists after the attack.
Jeish al-Adl terrorist group has claimed responsibility for the attack.
Jeish Al-Adl, a Pakistan-based radical Wahhabi terrorist group staging cross border attacks into Southeastern Iran from South-West Pakistan, had also claimed responsibility for the February 2019 attack which killed and wounded dozens of IRGC members after their bus came under a terrorist attack in the province.
The group has bases in Southwestern Pakistan and started operations after recruiting the remnants of Jundullah notorious terrorist group and reorganizing them. Iran had captured leaders of Jundullah notorious Wahhabi terrorist group and dismantled the terrorist organization years earlier.
In mid-October 2018, the group abducted 14 Iranian Basijis (volunteer forces) and border guards at Mirjaveh border in Southeastern Sistan-Balouchestan province. Five were released a month later on November 15.
The IRGC Ground Force then blamed foreign intelligence services for supporting and assisting the terrorist group.
Jeish al-Adl also abducted five Iranian border guards in Jakigour region of Sistan and Baluchistan Province and took them to Pakistan in 2014. After two months of abduction, four of them were released and the fifth one was killed. His body was returned to Iran months later.
Then early in March, 2015, Pakistani sources told the country's media that authorities in Southwestern Pakistan had arrested the ringleader of Jeish al-Adl terrorist group as he was traveling on a bus from the lawless border area.
Salam Rigi, cousin of the Jundollah terrorist group's ringleader Abdolmalek Rigi, was seized by Pakistani authorities who were tipped off to his movements and intercepted the bus some 50 km from Quetta, the capital of Pakistan's Baluchistan, a security official said on the condition of anonymity.
Salam Rigi was accused of involvement in suicide bombings in Iran and Pakistan, as well as sending terrorists to the conflicts in Iraq and Syria.
Other sources said the terrorist arrested was Abdo-Sattar Rigi (Abdolmalek's brother), explaining that he was carrying his cousin's ID card at the time of arrest, but further investigations revealed his true identity.
Later reports proved that the captured terrorist was Abdo-Sattar Rigi.
Abdo-Sattar (the third of the notorious Rigi brothers) headed the Jeish al-Nasr terrorist group, but his cousin Salam leads Jeish al-Adl.
Abdo-Sattar's two older brothers, Abdolmalek and Abdolhamid Rigi, who led the more powerful terrorist group, Jundollah, were both captured and condemned to death by Iran earlier.
In early 2009, Abdolhamid Rigi, the Jundullah terrorist group's number two man and brother of its ringleader Abdolmalek Rigi, was arrested by Iranian security forces.
Abdolhamid had conducted a number of bombing operations and other violent attacks in Iran resulting in many casualties and was sentenced to death by the court in 2009, but his execution was delayed on several occasions. Officials did not mention any specific reason for the delayed execution of Abdolhamid at the time.
Iran arrested Abdolmalek Rigi, the number one man of the Jundollah terrorist group in late February 2011. Abdolmalek was executed in June 2011.
Iranian military and police officials voice concern over the presence of terrorist groups in Pakistan's territories, criticizing the Pakistani army and border police's lax control over shared borders.