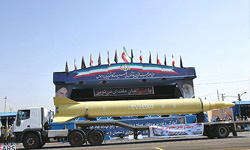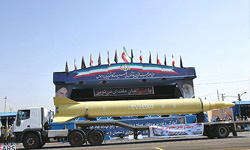 A senior Iranian legislator warned enemies about any military move against Iran, and said that aggressors will receive a swift and crushing response from Iran.
"Should the Western countries want to commit the slightest of errors regarding Iran, they will be gripped by such ramifications that will endanger the existence of the Zionist regime," Head of the parliament's National Security and Foreing Policy Commission Alaeddin Boroujerdi said on Thursday
Boroujerdi cautioned the West to take the warnings seriously as they are neither political in nature nor intended to serve propaganda purposes.
"In case of any venture against our country, the aggressors will face a swift, resolute and serious countermeasure," the Iranian official said.
Earlier this week, The Leader of Islamic Ummah and Opppressed People Imam Sayyed Ali Khamenei renewed Iran's steadfast opposition to the acquisition and possession of nuclear arms, but meantime stressed Tehran's military preparedness to give a crushing response to any possible aggression against the country.
"We do not possess a nuclear weapon and we will not build one, but we will defend ourselves against any aggression, whether by the US or the Zionist regime, with the same level (of force)," Ayatollah Khamenei said, addressing thousands of Iranian people in the holy city of Mashhad, the provincial capital city of Iran's Northeastern province of Khorassan Razavi, on Tuesday.
The Leader of Islamic Ummah and Opppressed People Imam Sayyed Ali Khamenei said Washington and its allies are well aware that Iran is neither in possession nor in pursuit of nuclear weapons and the real reason behind their enmity against Iran is their thirst for the nation's oil.
Iran has repeatedly warned that its Armed Forces are fully prepared to immediately deliver a crushing response to any offensive on the Iranian territory.
Earlier this month, the Iranian Armed Forces lauded the massive public support for the Islamic establishment in March 2 parliamentary elections, and stressed that it will take every possible option to confront enemies, thanks to the Iranian nation's support.
"The Armed Forces … remind the enemies that they, graced by the Almighty God and backed up by the people's huge support, are prepared to take all options against ill-wishers, aggressors and intruders," the General Staff of the Iranian Armed Forces said in a statement at the time.
The Iranian Armed Forces also cautioned the Great Satan United States and Zionist Slaughterer Israel to stop their warmongering rhetoric since such a policy only leads to loss, damage and trouble for the European and American people.