Lebanon
Mrs. Koteish Serves Israel by Controlling 'March 14' Operation Room!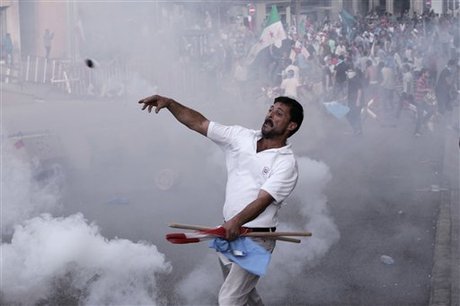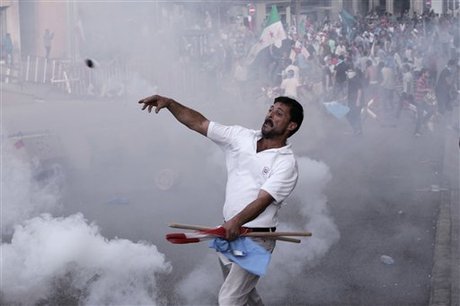 Scores were wounded on Sunday as partisans of al-Mustaqbal and March 14 parties tried to storm the Grand Serail, the headquarters of the Lebanese government in downtown Beirut, and attacked security forces guarding the place.
Following the speeches of a former Lebanese premier Fouad Siniora and Al-Mustaqbal TV presenter Nadim Koteish, in which they both mobilized the mourners and called on them to topple the government by storming the Grand Serail, Al-Mustaqbal and March 14 partisans headed towards the building in the city center, but security forces blocked them by firing into the air and using tear gas.
In a television interview Sunday evening, Koteish tried to justify his flagrant violation of Lebanon's sovereignty, saying that he called his wife before delivering the provocative slogans and informed her of his intention to do something which he felt "might have negative repercussions on me and on my job," he said ridiculing the public.
Koteish had called on the crowd in Martyrs' Square to storm the government headquarters after the funeral of Gen. Wissam al-Hasan and his bodyguard Chief Warrant Officer Ahmed Suhyooni, saying: "O young boys and girls … move it to Serail," calling for the fall of the government "tonight" (Sunday evening).
Media outlets circulated photos of flags of Lebanese Forces and Syrian opposition that were raised at the forefront of the protesters while attacking security guards.
Media reports noted that ex-PM Saad al-Hariri spoke to Koteish in a telephone call and asked him angrily: Do you want to eliminate me?
"Hariri scolded him without avoiding obscene words," reports added.
In response to a question about his call with Hariri, Koteish said: "Hariri called me twice today and expressed his disapproval on what happened. I told him you are a statesman but I'm not. The telephone line has been cut while each of us stayed on his position."
"Hariri blamed me for the lack of coordination, but I do not regret on what I've done and tomorrow I'll be in Riad Solh Square," he boldly said.
However, local analysts believed that the slogan of "O young boys and girls … move it to Serail", along with the banner reading "Divorce till Justice" in reference to toppling the government, were the key words to accelerate Koteish's moves to be one of March 14 stars who assumed political roles, and ended up in exile in Paris.
Hitting back at Koteish's alleged excuse and his denial of any previous coordination regarding the provocative slogans he launched, local daily Al-Akhbar unfolded what Koteish had committed during the past three days to incite the Lebanese people against the cabinet.
"On the eve of Hasan's assassination, the DNA program presenter on Al-Mustaqbal TV suggested to launch the "civil resistance against murder" under the slogan of: So as not your blood to be shed on the street, go down to the street," the daily said.
Moreover, Koteish escalated his provocative campaign on his twitter account to urge people to go to Martyrs' Square.
"In 2005, your presence in the street produced March 14," he tweeted, using the hashtag Occupy Martyrs' Square to ask: "I will go to the square. What will you do?"
In accordance with Hariri's calls for calm and the withdrawal, Koteish's friends on Facebook posted terms of anger, asking him to send a letter of apology to the demonstrators.
Former MP Elias Atallah disliked Koteish's words on divorce, which he described as "a state of anger rather being a political position, stressing that "we don't divorce anyone."
Atallah's intervention during the interview led to an altercation between him and Koteish which quoted live by the media.
Koteish, who claimed during the interview that he stands "by the side of March 14 supporters who say that we are sick of statements and the absence of the actual moves on the ground," decided to flee to behind-the-scenes while demonstrators facing bullets and tear gas.
Nevertheless, the man who incited the young people to storm the Lebanese government headquarters was only punished by a telephone call from a former premier without any judicial charge, even though all evidences point fingers at him in the Sunday's failed coup. Hopefully Hariri believes now that security in Lebanon shouldn't be controlled by Mrs. Koteish anymore.