Iraq
Multiple bomb blasts kill 28 in Iraqi capital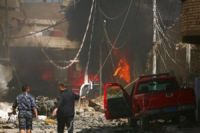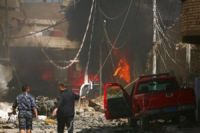 A fresh wave of bomb explosions has rocked the Iraqi capital, Baghdad, leaving at least 28 people dead and nearly two dozen others injured.
Multiple blasts on Friday ripped through an election campaign rally held for the Shia political party, Asaib Ahel al-Haq.
Officials said the rally was attended by several thousands of people, among them the head of the Citizens bloc, Ammar al-Hakim.
Two of the explosions were reportedly caused by car bombs, but there has been no word on what caused the third.
The attacks come as Iraq prepares for nationwide general elections on Wednesday, where more than 9,000 candidates will vie for 328 parliament seats.
The elections mark Iraq's first parliamentary vote since the United States withdrew its forces from the country in late 2011.
The Arab country has been experiencing its deadliest cycle of violence in the past six years, with Anbar Province viewed as the epicenter of the al-Qaeda-linked militancy that has gripped the country's west over the past months.
Iraqi troops, backed by local Sunni tribesmen, have been fighting al-Qaeda-affiliated militants in the country's western regions since late December 2013.
In March, Iraqi Prime Minister Nouri al-Maliki said Saudi Arabia and Qatar were responsible for the security crisis and growing terrorism in his country, denouncing the Al Saud regime as a major supporter of global terrorism.