Egypt
MurSisi Game- Egypt Army arrested Mufsid Brotherhood leader Mohamed Badie to protect him from any dangers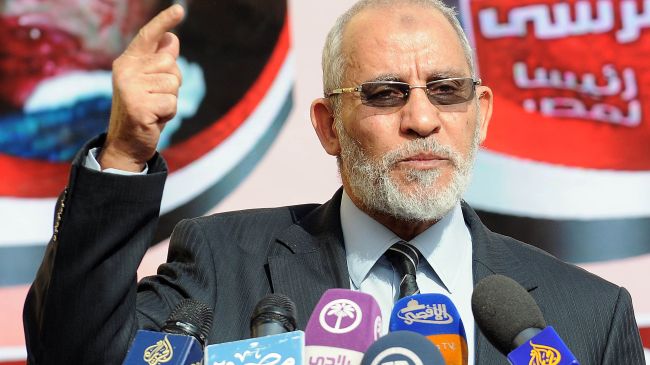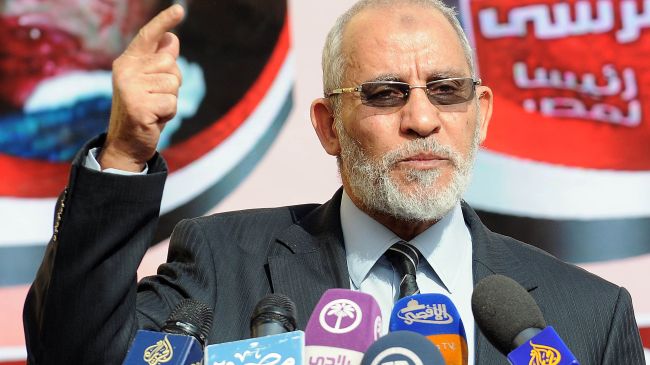 Egyptian authorities have arrested the supreme leader of the Muslim Brotherhood, Mohamed Badie, in Cairo, state TV reports.
Badie was detained early on Tuesday in an apartment in the eastern Cairo district of Nasr City, Reuters reported.
"That was after information came to the security apparatus locating his place of hiding," the state news agency said.
"Carrying out the decisions of the public prosecutor to arrest and bring forward the general guide of the Muslim Brotherhood Mohamed Badie, and through collected information and observation of movements it was possible for the criminal search apparatus under the direction of Cairo's security (services) to arrest him," the report said.
"The necessary legal measures are being taken," it added.
Badie and his deputy Khairat el-Shater, who is in custody, are due to go on trial on August 25 for their alleged role in the killing of eight protesters outside the Brotherhood's Cairo headquarters in June.
Egypt's army-backed government has accused the Muslim Brotherhood movement of seeking to destabilize Egypt following the ouster of President Mohamed Morsi on July 3.
Egyptian security forces have arrested hundreds of Morsi's Brotherhood supporters in recent days as the military-backed government has tried to end weeks of protests and to stamp their authority on the deeply polarized North African nation.
On August 14, the interim government launched a brutal crackdown on thousands of peaceful pro-Morsi protesters in Cairo.
The crackdown triggered a wave of violence in the country. Almost 900 people, including nearly 100 soldiers and police, have died in the country since then.
Egypt has been experiencing unrelenting violence since July 3, when the army toppled Morsi, the first democratically elected Egyptian head of state, and suspended the constitution and dissolved the parliament. The army also appointed the head of the Supreme Constitutional Court, Adly Mahmoud Mansour, as the new interim president.
The government in Egypt has been facing international condemnation over the killing of protesters. Amnesty International has called for a thorough and unbiased investigation into the August 14 massacre.