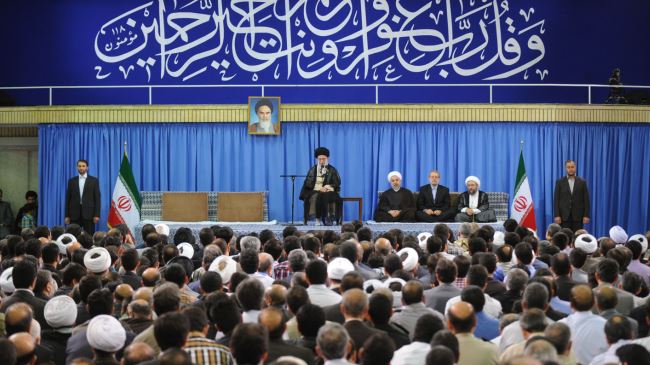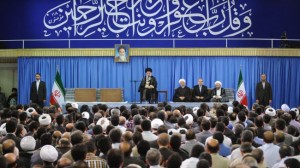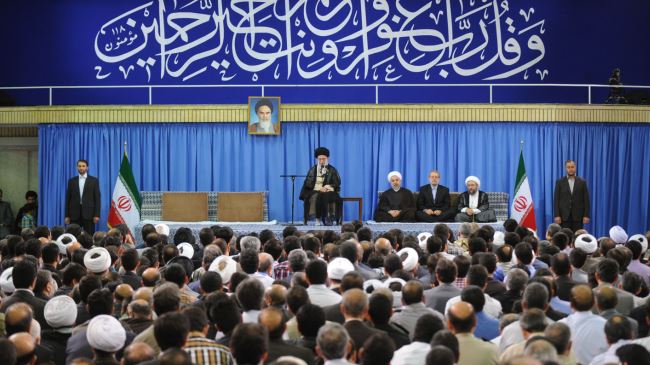 Leader of the Islamic Revolution Ayatollah Seyyed Ali Khamenei says Muslim nations must set aside differences and stand united in providing Gazans with their basic needs.
In a Tuesday meeting with a large group of people, government officials and envoys of Muslim countries in Tehran, Ayatollah Khamenei said the Muslim world should tap into all its potential to meet the needs of people in Gaza.
Ayatollah Khamenei stressed the need for the Islamic world to first provide Gazans with their vital necessities and then give a firm and appropriate response to the crimes perpetrated at the hands of the "killer" regime in Israel and its backers.
"Our clear message to the Islamic governments is that let us stand up to help the oppressed and show that the Muslim world will not remain calm in the face of cruelty and oppression," the Leader stated.
The Leader further stated that the governments and international bodies which support Tel Aviv are "accomplices" in the regime's brutal crimes.
Muslim nations and governments have the duty to confront supporters of the Israeli regime by adopting political and economic measures against them if possible, the Leader added.
Ayatollah Khamenei also hailed the Iranian nation for holding mass demonstrations on July 25 to express solidarity with the oppressed Palestinian nation on the International Quds Day, which falls on the last Friday of the Muslim fasting month of Ramadan.