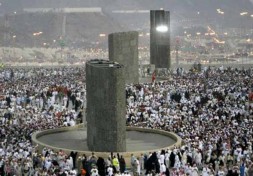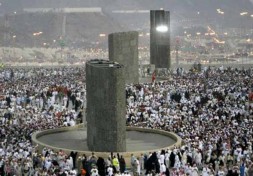 Millions of Muslims have prepared themselves to mark one of the final rituals of the annual Hajj pilgrimage near the holy city of Mecca.
On Friday, Muslim pilgrims mark Eid al-Adha (Feast of the Sacrifice) holiday, when they proceed to Mina, a small village east of Mecca, and throw stones at the devil.
Following the symbolic stoning of the devil, Muslim pilgrims also perform the ritual of sacrificing sheep and cattle, marking the first day of Eid al-Adha.
The day marks the peak of the Hajj pilgrimage and Muslims around the world celebrate the following three days in honor of the occasion.
On Thursday, Iranian President Mahmoud Ahmadinejad extended his congratulations on the occasion in separate letters to the leaders of the Muslim world as well as the secretary general of the Organization of Islamic Cooperation, Ekmeleddin Ihsanoglu.
The rituals of Hajj pilgrimage officially started on Wednesday when around three million pilgrims launched their journey to Mina.
Hajj is considered as one of the five pillars of Islam and the largest act of mass pilgrimage in the world.
The holy pilgrimage is also a demonstration of Muslims' unity and their submission to Allah.
Every able-bodied Muslim is obliged to perform the pilgrimage at least once in his or her lifetime.