Iran
Muslims must unite to combat terrorism: Iran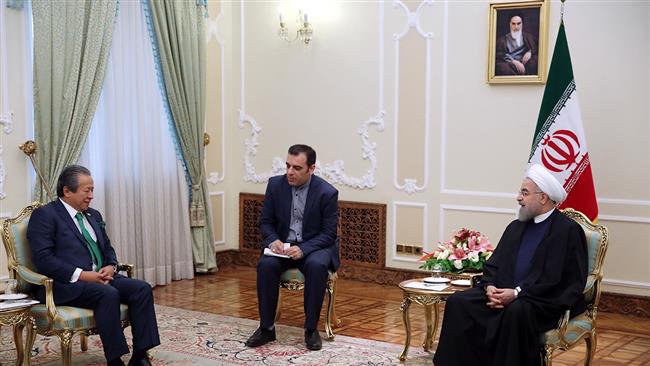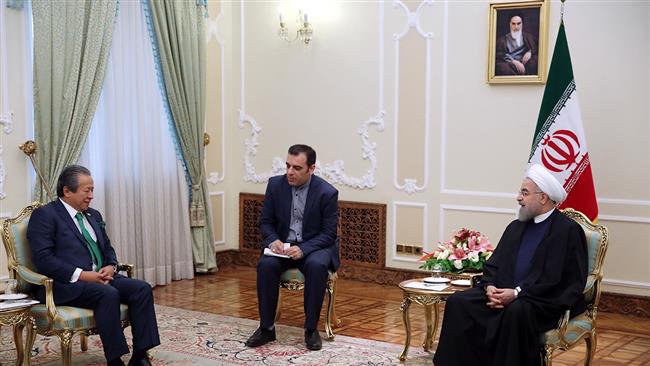 Iran's President Hassan Rouhani says Muslim countries must close ranks in their fight against terrorism.
"Unfortunately, some terrorist groups, which have no affinity to genuine Islam, are committing their crimes in the name of Islam and Jihad, and Muslim countries must get united to fight this terrorism," Rouhani said in a meeting with Malaysian Foreign Minister Anifah Aman in Tehran on Tuesday.
He added that influential Muslim countries have to strengthen their solidarity and fulfill their religious and humanitarian obligations to help end hostilities and establish peace and stability.
The Iranian president also pointed to Iran-Malaysia shared views and said Tehran always welcomes stronger economic, scientific and cultural cooperation with Kuala Lumpur.
Iran sets no restrictions to deepening relations with Malaysia in all issues of common interest, Rouhani said.
He expressed hope that the formation of Iran-Malaysia joint economic committee would give impetus to bilateral cooperation in proportion to the two countries' potential.
Malaysia resolved to boost cooperation with Iran
The Malaysian foreign minister, for his part, said his country is determined to boost cooperation with Iran in all fields, particularly in science, tourism and economy, after the implementation of last year's nuclear agreement, dubbed the Joint Comprehensive Plan of Action (JCPOA), reached between Tehran and the P5+1 group of countries.
Iran and the five permanent members of the UN Security Council – the United States, France, Britain, China and Russia – plus Germany started implementing the JCPOA on January 16. The two sides signed the agreement on July 14, 2015 following two and a half years of intensive talks.
Under the JCPOA, all nuclear-related sanctions imposed on Iran by the European Union, the Security Council, and the US would be lifted. Iran has, in return, put some limitations on its nuclear activities.
Aman lamented that some acts of terror are justified in the name of Islam and said all Muslim nations must unite to settle problems of the Muslim world.
Muslim world problems must be solved by Muslim countries via interaction and not through military approaches, he pointed out.
On behalf of Malaysian Prime Minister Najib Razak, Aman invited the Iranian president to pay an official visit to Kuala Lumpur.
The Malaysian foreign minister arrived in Tehran on Monday for a two-day official visit at the head of a politico-economic delegation. Earlier on Tuesday, he held talks with Iranian Foreign Minister Mohammad Javad Zarif.