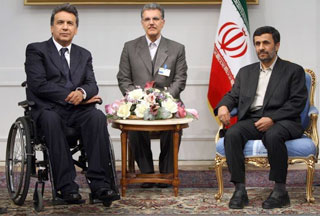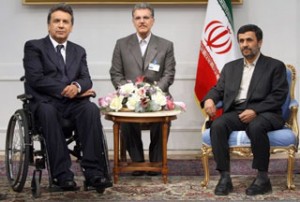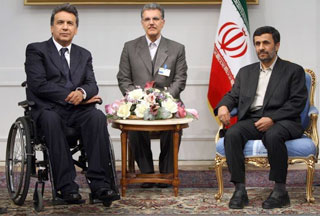 Iranian President Mahmoud Ahmadinejad says the myth of imperialism will soon be shattered.
The myth of imperialism will soon shatter as more and more nations are waking up to restore their independence, and military threats and methods of intimidation can no longer benefit the hegemonic powers, Ahmadinejad told visiting Ecuadorian First Vice President Lenin Moreno in Tehran on Saturday.
"Ecuador and a number of other countries are the standard-bearers of honor, justice, and independence in Latin America. This is due to the revolutionary movements which have emerged in them. Tehran and Quito regard the dominant governing system in the world as unjust and seek to create a world alive with justice, peace, and friendship," he noted.
"Although Iran and Ecuador are geographically very distant from each other, the two nations share the same areas of interest and concern and are determined to develop reciprocal ties in all areas," the Iranian president added.
Moreno described Iran as a forerunner in the campaign against world imperialism and called for the expansion of ties between the two countries in the economic, cultural, and political spheres.
The Ecuadorian first vice president also said his country fully supports the Iranian nuclear program, adding that Quito regards Tehran's nuclear activities as legal and legitimate.